PRODUCTS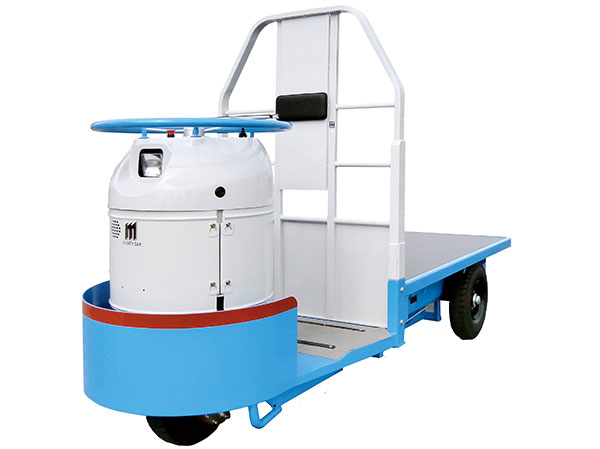 MIGHTY CAR BN-5(2R1180-2HLS)
The BN-5 was developed for high-output markets. With a built-in high capacity battery and high output motor, its performance shines on three-dimensional slopes.*3-phase 200V equipment is required for this model.
Bed size:1100x1800mm
Purpose:Marine products
FEATURES
Improved operability

We changed the shape of the accelerator ring, and extended it by 90 mm. By adding a new accellerator cover, we were also able to minimize strain on the fingers when pushing the accelerator ring.

Gear drive-type drive system

The benefits of this type of system are plentiful: Less maintenance and easier handle operation than chain-type drive systems; reduced noise; oil-leak prevention; culminating in a cleaner and more enjoyable operating experience. By adopting 500-8 size wheels, we were able to achieve greater tire durability and optimal driving performance on bumpy surfaces.

Low floor and anti-vibration step

To reduce the strain associated with boarding and deboarding, we reduced the height of the step by 75mm, and made S-shaped frames standard throughout the line. In order to reduce the physical stress associated with vibrations, an anti-vibration step was also implemented as standard hardware.
SPECIFICATIONS
Total length (mm)

3,050

Total width (mm)

1,100

Total height (mm)

1,860

Bed length (mm)

1,800

Bed width (mm)

1,100

Bed height (mm)

550

Vehicle weight

(Kg)

995

Maximum payload (Kg)

2000


(500 when on public roads)

Top speed (Km/h)

15

Maximum gradability (angle)

9°

(with 1000kg payload)

Minimum turning  radius (mm)

2350 (outermost)
Motor

Type

3-phase induction motor

Output/rating

4Kw/1HR

Control method

Inverter

Battery

Type

GC200

Capacity

48V-200AH/5H

Power

Location

Onboard

Charging method

Automatic constant voltage charging

Charging current

3-phase AC200V/15A

Tires

Front

5.00-8 × 1

Rear

5.00-8 × 2